Wrede Werelden Brian Aldiss Bibliography
Summary Bibliography: Brian W. Aldiss
You are not logged in. If you create a free account and sign in, you will be able to customize what is displayed.
Author: Brian W. Aldiss Author Record # 131
Legal Name: Aldiss, Brian Wilson
Birthplace: East Dereham, Norfolk, England, UK
Birthdate: 18 August 1925
Deathdate: 19 August 2017
Language: English
Webpages:brianaldiss.co.uk, IMDB, liverpool.ac.uk, SFE3, Wikipedia-EN
Used These Alternate Names:Brian Aldiss, Brian Wilson Aldiss, Brian Aldiss, O.B.E., ブライアン・W・オールディス?, Jael Cracken, Brajan Oldis, Dr. Peristyle, John Runciman, C. C. Shackleton

Note: Served in the Royal Signal Corp in Burma and Sumatra during WWII. Afterward he worked as an assistant in a bookshop, and began writing fiction about the book trade, which was later collected in The Brightfount Diaries. He became editor of the The Oxford Mail in 1958, and was the first President of the British Science Fiction Association. Aldiss became closely aligned with the British New Wave in the mid 60's, while establishing himself as an important SF anthologist and critic.

Additional Bibliographic Comments:Author:Brian W. Aldiss
Author Tags:science fiction (24), first person point of view (7), recursive sf (NESFA index) (5), mars (4), contemporary (4), Anatomy of Wonder 1 Core Collection (3), SF: The 100 Best Novels 1949-1984 (3), generation ship (3), near future (3), tongue in cheek (3), immortality (3), cosy catastrophe (2), faster than light travel (2), politics (2), Mary W. Shelley (2), into-movie (2), Merril07 (2), humorous (2), religion (2), psychology (2) and 195 additional tags. View all tags for Brian W. Aldiss
Image supplied by Fantascienza
Showing all translations. Registered users can choose which translations are shown.
Fiction Series
Best Science Fiction Stories of Brian W. Aldiss

Dracula universe

Frankenstein Universe

Helliconia

1 Helliconia Spring (1982) also appeared as:
2 Helliconia Summer (1983) also appeared as:
3 Helliconia Winter (1985) also appeared as:
Helliconia Spring (excerpt) (1983) [SF] only appeared as:
Helliconia (1996) [O/1,2,3] also appeared as:



Hothouse

The Brian Aldiss Collection: The Complete Short Stories

The Year Before Yesterday
NovelsCollectionsOmnibusMagazine Editor SeriesAnthology SeriesAnthologiesChapbooksNonfictionCover ArtInterior ArtShort Fiction Series
Oxford Literary Festival Tribute to Brian
The FT Weekend Oxford Literary Festival takes place between March 17 and March 25 2018. This year there will be a tribute to Brian including talks from colleagues and family.
On Tuesday the 20th at 4pm Christopher Priest will chair a session of readings and remembrance by family and other authors. This forms part of a bigger session on science fiction in literature.
To book tickets click here.
Check in on the festival website for further updates: http://oxfordliteraryfestival.org/
BSFA Tribute to Brian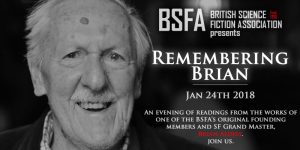 At the last BSFA meeting a tribute was made to Brian. Although not one of the founder members of the BSFA, Brian was given the #1 membership number very early in its days, and BSFA felt very honoured to have him as their special guest at the BSFA/SFF joint AGM and mini-convention a couple of years ago.
Brian won BSFA Awards in 1971 for his collection, The Moment of Eclipse, and in 1973 won a special award for Billion Year Spree. In 1982 he won the Best Novel award for Helliconia Spring, repeating the win in 1985 for Helliconia Winter.
More info on the BSFA website.